We Are Hiring!
At Handyman And Designs, we aim to become the best Handyman business for small-to-medium sized jobs in Montreal. We are seeking individuals who are willing and wanting to contribute talent to our mission for excellence. If you are hard working, precision oriented, believe in safety, are a passionate person, and understand the importance of delivering excellent customer service, we want to hear from you!
The following are key reasons to join our team:
Media marketing: With a growing online presence on social media, the possession of a world-class website design, an upcoming dedicated YouTube channel, and captivating vehicle designs, we have the ability to provide you with continual work of all forms – Guaranteed.
Customer service representative: Shy, busy, or have trouble handling phone calls? Let our customer representative handle the majority of first time calls and long term customer relationships.
Studio workshop: Use our upcoming workshop, titled "Secret Labs," to craft special projects for your personal or client related projects.
Vehicle service: We fix our own vehicles. Save thousands on vehicle repair and maintenance bills.
PLUS:
No deadlines!
You are your own boss!
You take on as much or as little work as you would like.
Once-per-month drinks with the gang to discuss how things are going, exchange ideas, receive feedback, and to chill and relax after a busy month of work.
Once-per-month personal 1-on-1 meetups to discuss your progress, talk about projects, listen to ideas/suggestions on how together we can improve, and see if there is anything that we can help you with.
Ability to call for assistance on projects that require an additional hand or two, or in the case of illness, pass an entire project on to a fellow handyman.
Ability to borrow and share tools in order to complete unique One-time contracts.
Up to 10k internal insurance for botched jobs.
Receive five freshly cleaned company T-shirts provided every Sunday.
Ability to earn a vehicle of your choice, that will be given an eye catching design that is unique to what we, HANDYMEN, are all about – "We Do It All!"
If you are self-motivated, possess strong ethical and moral codes, and DIY runs deep in your veins, whether you have professional experience or not, we want to hear from you.
We want you to Be Yourself At Work. We celebrate individuality and recognize that diversity of thought is critical to success. We operate with little hierarchy because we want all members to feel that Handyman And Designs is theirs to own and run. Effectively, you are your own boss and the name that you make with clients, colleagues, and friends is forged with your own dedication, sweat, and hard work. You can aim to earn a great six-figure full-time income, or keep work as a part-time hobby. At Handyman And Designs, the choice of who you are and who you choose to one day become… is Ultimately Yours.
There are no standard salaried positions, nor do we take any commissions on your work. We are a membership based service, hence, to work with us is a collaborative effort with unlimited possibilities. We want you to succeed, plus, we also want you to have fun while you do it. In this light, the following are a few additional perks we offer to make everything more interesting:
A Garden, titled "Handyland Grove," is currently under construction. Herein, once a month, we can enjoy a barbecue and unwind from the stress of our everyday lives. While comfortably seated, we can share ideas, discuss new possibilities… and of course, share a drink or two… or three or four. (We don't endorse drinking and driving!)
The 3D image represented above is only the first of three stages. Once we get all the basic items in the 3d sketch built, we will move to the next phase, furniture, plants and décor. The final stage, stage #3, is outdoor lighting, another round of fancy décor, and we will finally fortify everything so that we can serve over 100+ people. It would be nice if we could one day hold a barbecue for ALL our clients.
TOPOur Transportation Fleet
Like our culture portrays, we encourage diversity and uniqueness, specifically, yours. Our aim is to create unique vehicles for all full-time members of our team. It can be a motorbike, a car, a passenger van, a large cargo van, or a traditional pickup truck. Each vehicle will have a unique design that will become your personal pride and joy to drive. All vehicles will be designed internally and custom built to suite your needs. Additionally, safeguards will be installed to prevent vandalism, theft of internal items or theft of the entire vehicle as a whole.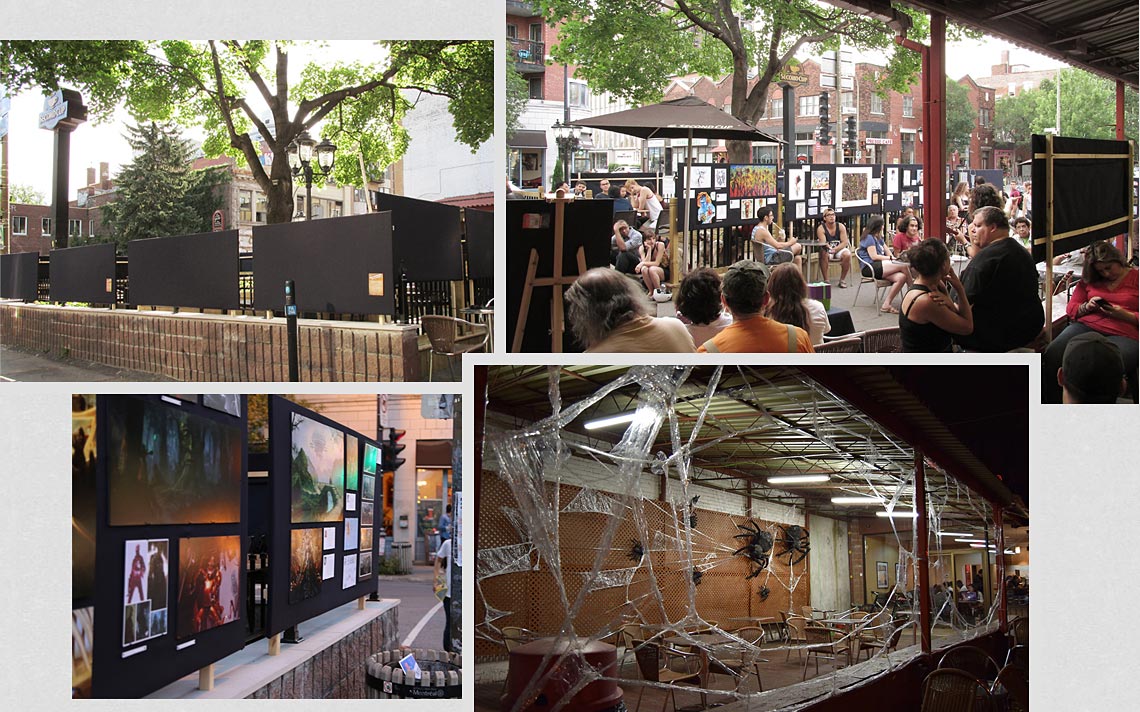 TOPCharity projects
As our client base expands, opportunities arise to spread our brand name and to have an interesting and fun challenge. Decorations! Elaborate, bold and daring!! This can be in the form of creating Halloween decorations and transforming a small public space into something inspiring. These projects are always non-profit and charitable creations that are funded by Handyman And Designs. They are a learning experience where we can have fun and try something new. A challenge!
TOPAdventures
Team outings are a great way to facilitate bonding, reduce stress, and get to know each other outside of work. And, you know what? They are really fun.
Besides monthly meetups over drinks, we will engage in the following occasional adventures: barbecues, road trips, camping, special builds, volunteering, charity marathons, explore a new place, sport games, mounting biking, canoeing, ski-doing and more.
A great company culture is important at Handyman And Designs. We believe in you and look forward to getting to know all those who join our talented crew.
At
Handyman And Designs,
we strive to create a work atmosphere where your work and dedication is appreciated. To arrange for a meet and greet for any of the following positions, please contact us via our
contact form.
We look forward to meeting you and having you join our talented team!
TOPHandyman
Available Positions: 2 (of 4 total)
Some of the following rings true for you: Whether you have professional experience or not, you attempt to fix everything in an adventure to learn. On Facebook, Instagram, or YouTube, you demonstrate a passion for working on DIY projects. These projects range in scope from very basic to impressively complex. You usually succeed to finish what you start, but sometimes, you also fail… SPecTaCulArlY! Projects could have been for friends, clients, or solely for yourself. Over time, you have learned how to assess a problem and come up with quick solutions to solve it.
In a nutshell, we are looking for team members who:
Care about what they do and how they do it.
Have no visible tattoos.
Have a professional, friendly and enthusiastic approach in speaking/dealing with clients.
Can handle malicious, rude, and troublesome clients in a respectful manner.
Have an ability to work autonomously and unsupervised.
Always work with best practices and safety standards in mind.
Pay strong attention to details, are focused, and take pride in the quality of their workmanship.
Can climb ladders, crawl into tight spaces, bend down, kneel for extended periods of time and lift heavy objects.
Are well groomed and presentable (shower daily), and who maintain a tidy appearance at all times.
Possess a few tools that are suitable for handyman work.
Possess a valid drivers license.
Basically, we are looking for friendly and passionate people who like to fix things with their hands. To join our team, please contact us today. We look forward to meeting you and if all goes well, have you join our team!
TOPAssistant Handyman
Available Positions: 2 (of 4 total)
You are like Robin is to Batman, or Apprentice to Jedi Knight. Essentially, you possess latent talent to become a Handyman yourself, but till that day, you are fully willing to learn the ropes before taking on the reins. As an assistant, you can expect to help a Handyman complete his/her work. Most of the time, you will work together as a team. However sometimes, in order to more effectively serve numerous clients, you will be left to complete small projects on your own. When in service, you might be asked to help lift things, brace items, dig, fetch something, be an extra pair of eyes for aligning objects, and more. Essentially, you should always be happy to lend a hand when and where needed.
In a nutshell, we are looking for assistants who:
Are familiar with utilizing a diverse set of tools and power tools.
Have no visible tattoos.
Are punctual and posses a strong desire to complete assigned tasks with professional grade workmanship.
Has worked on various DIY projects at home or for friends. This can be on cars, houses, backyards, and anything else that requires a hands-on approach.
Have the ability to work autonomously and unsupervised.
Are enthusiast and have a positive outlook on life.
Pays strong attention to details.
Can climb ladders, crawl into tight spaces, bend down, kneel for extended periods of time and lift heavy objects.
Have a friendly and enthusiastic approach in conversing with clients and the general public.
Are well groomed and presentable (shower daily), and maintain a tidy appearance at all times.
Possess a valid drivers license.
A trade qualification is not essential. What is essential is a genuine interest in handyman work and an ability to apply existing skills to required tasks. If you would like to join our team, please contact us today. We look forward to meeting you and if all goes well, have you join our team!
TOPThe Specialist
Available Positions: NA
As a Specialist, you possess years of experience in one specific field, such as brick/stone work, cabinet making, mural painting, architectural design/drafting, commercial photography, furniture creation, decking, tiling, metal working, room re-modeling, etc. With a great deal of experience, you are extremely self-sufficient, and financially, you are doing well.
So why sign with us?
We Manage first time calls, organize your leads, maintain client relations (Christmas emails, promo emails, thank yous, etc), respond to reviews, and more.
We have the ability to continually tailor our social media and website posts to your chosen field. Example, Want more outdoor fence projects? Pass us photos of fences you previously built and we will package and post them on our channels in order to direct more fence projects your way.
When done with a project, pass us some notes and photos, and we will handle the nitty-gritty details. We will write a final draft, translate everything into both English and French, prepare professional edited photos and make everything look unified in a final published package.
Consistency, consistency, consistency. We provide an overall unified design that includes property advertisement signs, branded photos, t-shirt designs, branded hats/caps, vehicle wraps, and more.
Gain access to a pool of capable and willing assistants who would love to help you in your endeavours to succeed.
We do fun things! It's never boring. There is always an interesting internal project or two to work on. It can be a camper van, decorations, or how best to cook a steak over a grill during our monthly get-togethers.
We are a membership based service, so we take zero commissions from your work. This means, you can form teams for big projects, or simply work alone, in either case, we never take additional funds.
We are always happy to have you join us. Contact us today to discuss anything and everything via email or in person.
TOPBasecamp Administrator
Available Positions: 1 (of 2 total)
As a Basecamp Administrator, you are an integral part behind the successful operation of Handyman And Designs. On a day-to-day basis, you will be asked to help organize events, maintain relations with clients, connect appropriately skilled handymen to clients, assist with bookings and engage in research related tasks. Additionally, you will manage social media platforms and organize virtual assistants in order to successfully complete tasks such as a social media post, website mod, news article, video post, and more.
In short, we are looking for an Administrator who will:
Manage communications, including emails and phone calls.
Screen phone calls, redirect calls, and take messages.
Schedule appointments, meetings, and reservations as needed.
Coordinate staff travel arrangements, including transportation, accommodations and preparing itineraries.
Manage, save and update contact information of employees, clients, and external partners.
Coordinate meetings and/or special events, including arranging for catering, locations, and distribution of information.
Oversee virtual assistants and effectively organize their tasks.
Qualifications:
A high degree of multi-tasking and time management capabilities.
Integrity and professionalism.
Can handle stress when workdays get busy.
Excellent English/French written and verbal communication skills.
Possess a self-starter attitude and enjoy getting things done before others recognize the need.
2-3 years of clerical, secretarial, or office experience, or equivalent.
Proficient computer skills, including Microsoft Office.
Willing and able to work in and adapt to change.
High degree of attention to detail.
Data entry experience is a plus.
Possess a natural ability to gracefully handle difficult calls and situations.
If you are highly motivated and organized, then this might just be the job for you. If you would like to join our team, please contact us today. We look forward to meeting you and if all goes well, have you join our team!
TOPContent Creator
Available Positions: 0 (of 2 total)
As a Content Creator, you are knowledgeable with photography, animation, graphic design, photo enhancement, social media (Instagram, Pinterest, Facebook, Google, etc), writing, forum/web posting, and related. You are well versed in producing entertaining or educational material and can showcase info creatively on media. You are skilled with how to capture the interest of an audience, or generate new interest with first-time viewers.
At Handyman And Designs, a typical week at work might look like: Visit Handymen on site and take progress photos of what they are currently working on. Next, prepare the photos and text for web. After everything is proofread, distribute the published post(s) on various social media channels. In addition to the production of posts, you might conduct research and text in order to create an article for our articles section online. An article like "The 10 best tools for indoor work", or a "Never do these 15 things", etc. Finally, when not working on articles or posts, you will help our primary video content creator to edit and create Handyman videos for our new Handyman channel on YouTube. Essentially, your weeks are never boring, so multitasking is key.
Basically, we are looking for creators who have experience in most or all of the following areas:
Experience using Adobe After Effect, Adobe Premier, or equivalent.
Experience with a 3d software package such as Blender, 3d max, Maya or similar.
Experience with creating eye catching designs for web pages, especially for WordPress.
Excellent at creative writing.
Possess Zero ego. You are able to take creative critiques from the founder and/or graphic designer and adjust images according to specific needs.
A background in Illustration, Animation, or Graphic design.
Possess a notebook computer for mobile work when needed.
Must be a pleasure to work with.
If you are highly creative, motivated and organized, then this might just be the job for you. If you would like to join our team, please contact us today. We look forward to meeting you and if all goes well, have you join our team!
TOPDIY Enthusiast
Available Positions: 2 (of 4 total)
We are always excited to meet new people and we enjoy demonstrating how handyman projects get done. If you are interested in a particular form of work, let us know and we would be delighted to have you join us on our adventures. We will show you the ropes and if an opportunity arises, let you take over the reins, but only if it's deemed safe and appropriate. There are hundreds of tools and materials to learn about, and each has its particular strengths and weaknesses. Only by trying a tool to accomplish a specific goal, will you learn how to use them. For those who are serious about learning a new trade, we are always happy to have you along. Join us today!
All DIY Enthusiasts are purely voluntary. In thanks and for a job well done, each will receive a Handyman And Designs t-shirt after participating in a professional project.
The only things needed:
Familiar with using hand held and/or powered tools.
A commitment and determination to learn.
Essentially, you must be serious about learning and be a pleasure to work with.
To join our team, please contact us today. We look forward to meeting you and if all goes well, have you join us on our adventures to fix and create!